Montreal team building activity
Montreal team building activity : dragon boat!
Are you looking for a practical way to emphasize coordination, healthy living and cohesion of your work team during your next corporate activity? We have the solution for you.
Initiate your colleagues to the benefits of dragon boat with one of our corporate team building packages.
The H2o advantage
Corporate team building activity is our speciality. Our event planning service has a proven track record and is known for its professionalism and efficiency. More than 20,000 people take part each year in our dragon boat team building activities, in various forms. The H20 team will assist you with the planning of your event and guarantees a memorable day.
We are located at Parc Jean-Drapeau, 5 minutes from downtown Montreal and in Lac Beauport in the Québec City region.
We offer turnkey packages and several pick and choose options to improve your dragon boat experience.
Our sites are well maintained, easy to get to and safe.
We travel anywhere in Québec. You supply the body of water, we supply the equipment and the unique experience!
Our packages:
Quickie (group of 12 to 100 people)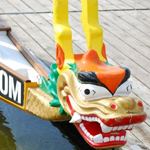 This package is suited for groups of 12 to 100 people. The Quickie is our basic corporate team building activity package and many pick and choose options can be added. It can be scheduled at any time, any day of the week.
5 à 7 (group of 50 to 200 people)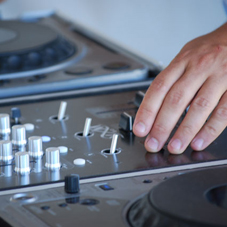 Combining dragon boat, cocktails, BBQ meal, good music and a beautiful site is a guaranteed success for an evening between friends or colleagues for a team building activity.
Festival (group of 200 to 1,000 people)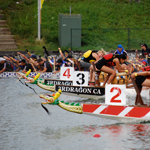 The ideal package for big groups. The Festival corporate team building package gives you the possibility to entertain 200 to 1000 people. A turnkey package that includes several options to put a special touch on your event to make it unforgettable for all.
Permanent dragon boat team (20 people, mixed, women, men)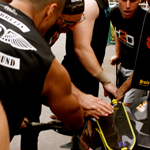 Put your own dragon boat team together to represent your business and enter our provincial, national et international competition circuits. Promote good health and the benefits of physical activity in your company through your dragon boat crew. Create an ideal weekly occasion for your employees to bond outside the workplace.
Pick and choose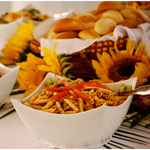 Extras often enrich a dragon boat event experience. Several options are available on a pick and choose basis to add to your package according to your needs and budget.